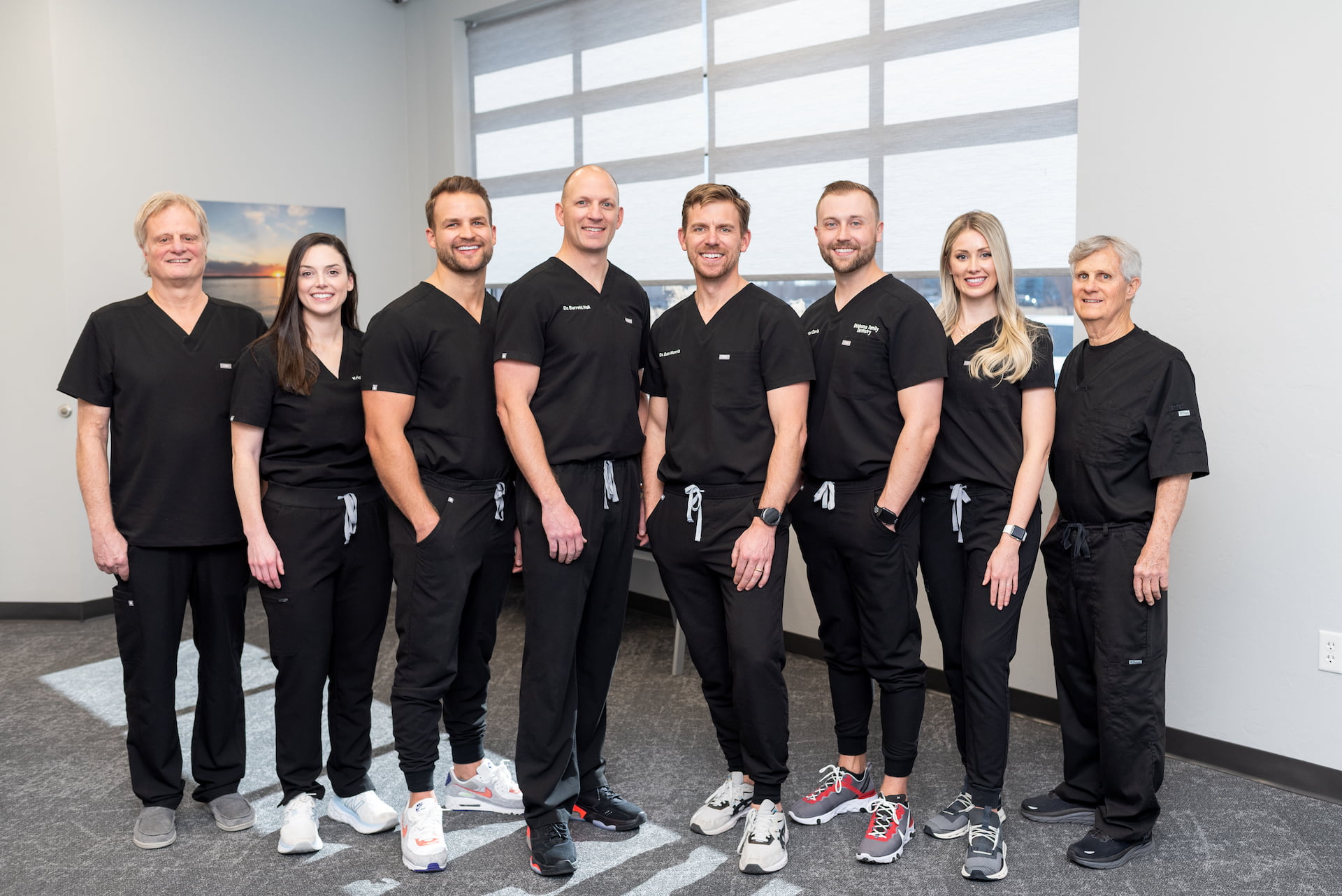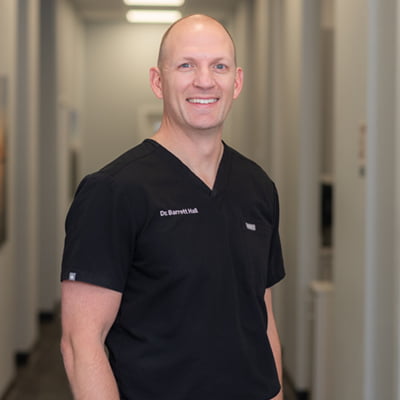 Dr. Barrett Hall
Barrett Hall, DDS, grew up in Tulsa, Oklahoma, and knew he wanted to be a dentist when he was still attending Jenks High School. Hailing from a long family line full of dental-care professionals, becoming a dentist was a natural fit for Barrett or as he puts it "dentistry is in my blood."
He attended Baylor University as an undergraduate before attending the University of Oklahoma College Of Dentistry (OUCOD). He was on both the President's and Dean's Honor Rolls at Baylor and at the OUCOD and additionally, was elected to the National Honor Society. Barrett undertook a residency in Advanced Education in General Dentistry with emphasis on surgical, cosmetic and complex restorative dentistry. Conversant in all aspects of dentistry, Barrett is a clinical instructor for dental implant surgeries at the OUCOD. Both Drs. Hall and Morris have taken part in the surgical planning, procedure, restoration and management of thousands of dental implants. This is an area of dentistry that Oklahoma Family Dentistry is very passionate about, and Drs. Hall and Morris are committed to staying on the cutting edge of dental implant therapy.
Dr. Dan Morris
Born and raised in the Tulsa area, Dr. Dan Morris attended Jenks High School with Dr. Barrett. Following a part-time job in dentistry after school, Dan set his sights on the profession as he considered going to college. An Oklahoma State undergraduate (2006) and University of Oklahoma College of Dentistry graduate (2010), Dan worked as an electrician's apprentice throughout his entire college experience. He learned that he enjoys working with his hands and especially likes the mechanical aspects of dentistry. In fact, Dan was recognized upon graduation by the Academy of General Dentistry as the top graduate who exhibited the greatest interest, knowledge and proficiency in the field of general dentistry.
As a professional, he's undertaken a residency in Advanced Education in General Dentistry (AEGD) where he learned implants and advanced restorative and surgical treatment, completing his residency in 2011. Dan focuses on the delivery of quality care from simple to complex procedures in a way that is comfortable for patients.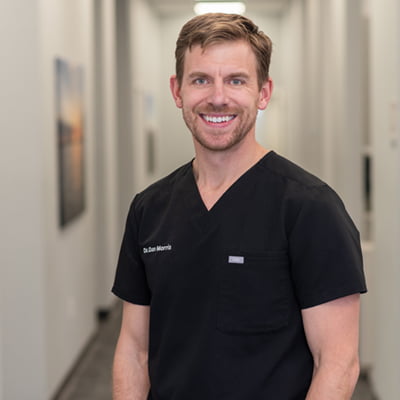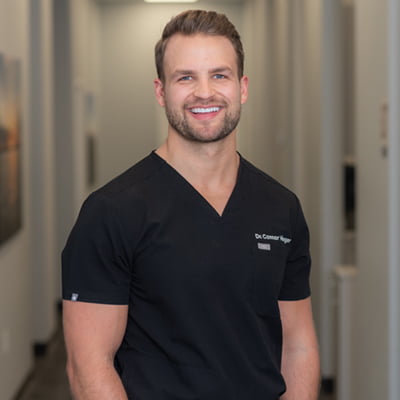 Dr. Connor Hieger
Connor Hieger, DDS, grew up in Tulsa, Oklahoma and attended Union high school. Always knowing he wanted to hold a career in the medical field, Connor, after seeing how much his smile improved after having his braces removed, knew dentistry was the profession for him. He attended the University of Arkansas on an academic scholarship where he continued to prepare himself for a career in dentistry. To gain experience, Connor volunteered at a weekly extraction clinic and began attending the yearly Arkansas Mission of Mercy free dental event. While taking classes, Connor also worked as the lead oral surgery assistant for one of Arkansas's most well respected surgeons. It was his time spent as an assistant that fueled his current passion for extractions, implants, and surgery. He then returned to his home state where he graduated from the OU College of Dentistry.
A member of the American Dental Association, Oklahoma Dental Association, and the American Academy of General Dentists, Connor's goal is to assist patients in achieving their optimal oral health by providing quality, preventive, and non-invasive procedures at the highest level of care.
Connor is a die hard Arkansas Razorbacks and Oklahoma City Thunder fan and attends games whenever he can. In his free time he enjoys playing sports, mainly soccer and golf, exploring new restaurants in OKlahoma City with his wife, and traveling to new destinations with friends and family.
Dr. Londan Davis
Dr. Londan Davis is a graduate from Fort Cobb-Broxton, Oklahoma. He attended Redlands Community College on a baseball scholarship before attending The University of Oklahoma where he graduated with a bachelor's degree. He continued his education at The University of Oklahoma College of Dentistry for his Doctor of Dental Surgery Degree (DDS). Dr. Davis graduated with his D.D.S. with honors in 2019.
Dr. Davis has continued his education by taking courses in surgical planning, sedation dentistry and dental implants. He aspires to be a lifelong learner in dentistry by studying new techniques and materials so that he can provide the best quality care for his patients. He believes every patient has a story and that every person should be treated individually like family. He aspires for his patients to have the most comfortable dental experience while receiving beautiful dentistry.
Dr. Davis loves being a dentist, but his most coveted title is "dad"— being the father to Kynsley Davis. His most cherished moments are playing and spending time with his daughter. He is also an avid outdoorsman that loves hunting, fishing and golfing.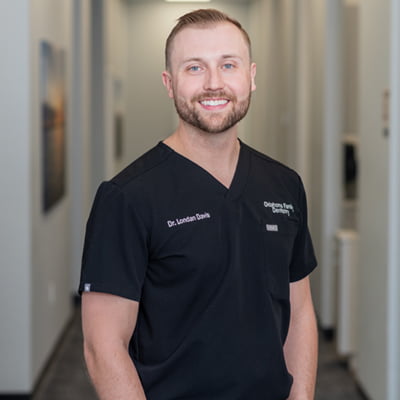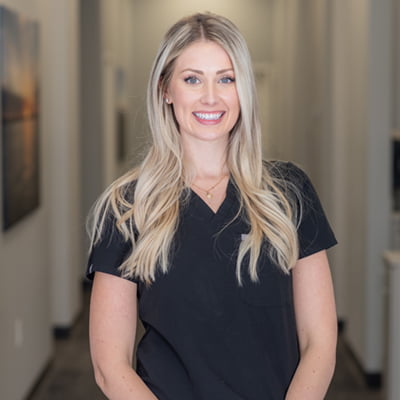 Dr. Kelsie Hinkl
Kelsie Hinkl, DMD, grew up in southern Illinois. Following high school, she knew she wanted to pursue a career in which she could help others. She attended Southern Illinois University – Edwardsville where she studied Chemistry and prepared for a career in healthcare. Not enjoying dental visits growing up, Kelsie could not envision herself entering into this profession. However, after shadowing some amazing dentists and seeing them improve smiles, treat infection and create genuine connections with others – she quickly decided that dentistry was the career for her. She continued her education at Southern Illinois University School of Dental Medicine where during her four years she served as Class President and graduated at the top of her class.
In her free time, Kelsie enjoys reading, walking through local art shows and spending time with her husband, family and friends.
Kelsie is a member of the American Dental Association and Oklahoma Dental Association. Kelsie believes that each person deserves individualized care that meets their needs in order to achieve optimal health and wellness starting with their mouth.
Dr. J. Ashley Hancock, D.D.S.
Dr. Hancock has wanted to be a dentist since he was in 5th grade. He grew up in Bartlesville and went to college at the University of Oklahoma, where he studied Chemistry. He graduated 3rd in his class from OU College of Dentistry in 1984, realizing his dream of becoming a Dentist.
Dr. Hancock also enjoys teaching at Rose State College in the Dental Hygiene and Dental Assisting programs. He has taught at Rose State College since 1985.
Dr. Hancock has two married sons, who each have a son. Luckily, they all live in Oklahoma, so it is easy to spend time enjoying his grandsons.
Dr. Hancock married his wife Karen in 1998. They enjoy taking motorcycle trips across the country, going to the mountains, hiking, and camping. Dr. Hancock also has fun making metal art from junk.
In 2021, Dr. Hancock decided to join OFD to transition his practice of 37 years to two excellent younger dentists, Dr. Morris and Dr. Hieger, giving Dr. Hancock and Karen more time to enjoy their adventures.